Bimedical
Cherry Data Importer
This plugin will help you export posts, comments, widgets, settings etc., from one site to another. With a single click of a button the plugin generates an XML file that can be imported to another website.
After the installation the plugin adds a new block - Demo Content where you can export or import the content.


Note: The images are not exported separately, they are downloaded from the server during the import.
File Import
To import the content, you need to upload the XML file and press Start Import.
Once the import begins you will see a box with progress bars.
    
After the import is complete you can view the site or customize it.

File Export
To export the data, you only need to press an Export button and an XML file will be created automatically.

Array Structure
XML importer settings. Features:
enabled

enable/disable XML importer;

use_upload

show/hide the files upload form;

path

path to the pre-installed sample-data;

import

import settings;

chunk_size

number of processed items at 1 importing step. The less this number is, the more steps will be during the importing process, and less time will be spent for 1 step. For this reason, it is strongly recommended to reduce this number for the themes with large sample data to avoid problems with importing files on weak servers;

remap

data post-processing settings. Here you need to add keys with posts IDs that can be changed during the import;

post_meta

post metadata settings;

term_meta

terms metadata settings;

options

options.
Export Settings
message

message displayed in the export block;

logo

url of the logo displayed in the export block;

options

options array for the additional export.
success links

associative array of links displayed on successful installation page. Link ID is used as a key. The plugin contains IDs for the homepage and for customizer;

label

link text;

type

type of displayed button (default, primary, success, danger, warning);

target

_balnk, _self;

url

link url.
Cherry Plugin Wizard
Cherry Plugin Wizard is a powerful instrument that allows you to install all the necessary plugins and demo-content in an easy and effortless way.
To install it you must go to Plugins tab in your administration panel. There you'll see the following notice.

Just click on Begin installing plugin link, and the installation will begin.
After Cherry Plugin Wizard is installed you will be able to see Cherry Plugin Wizard tab in your administration panel. Go to this tab, and Cherry Plugin Wizard will offer you to install the bunch of recommended plugins to your theme.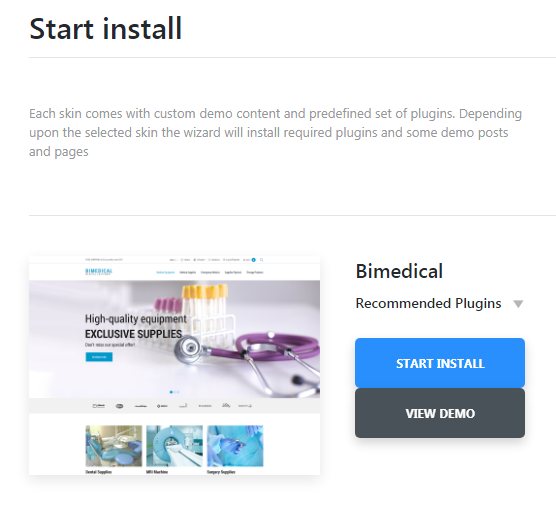 You can also select which particular plugins you want to be installed. To do it you just have to select them from the list that wil appear on your page. Then click on Next button and proceed to the installation process.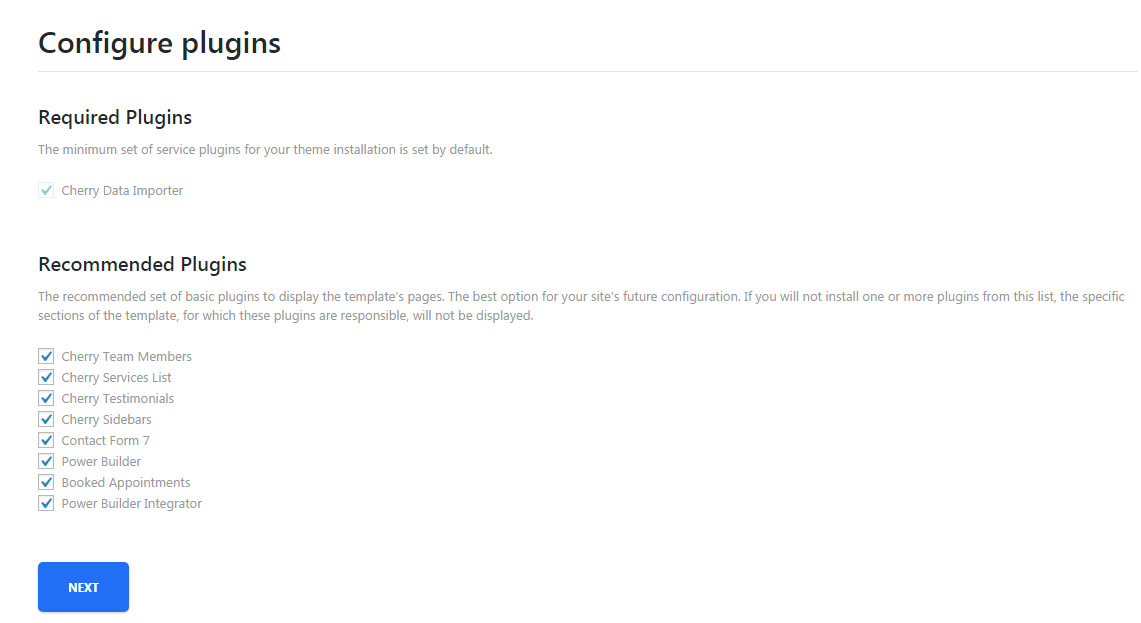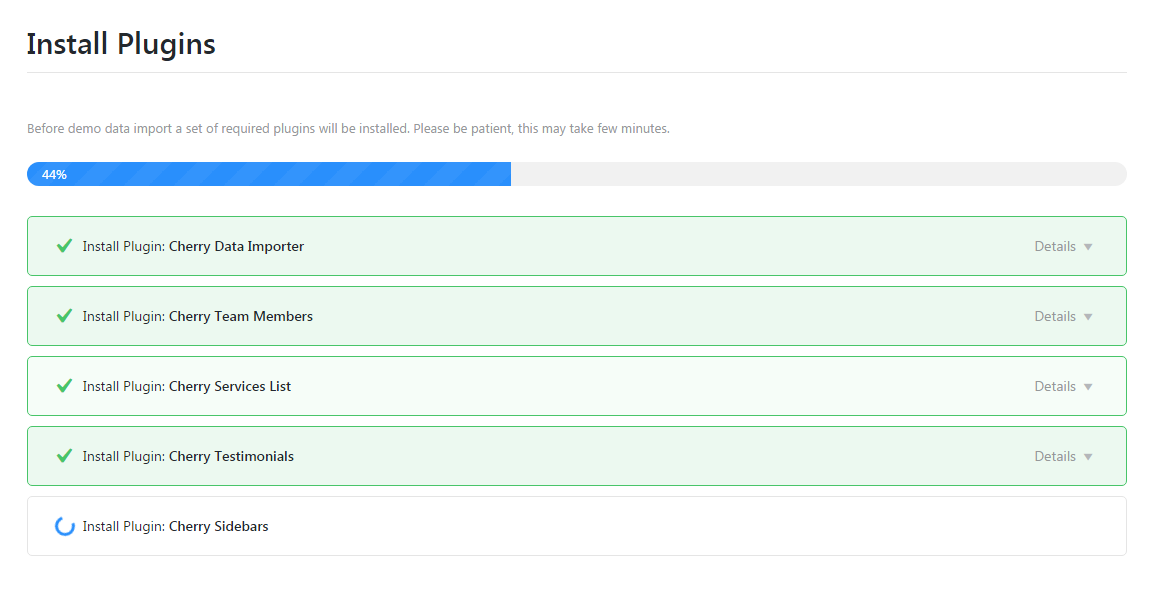 When the plugins are installed it is time to install demo content for your theme. Cherry Plugin Wizard will offer you to do just that.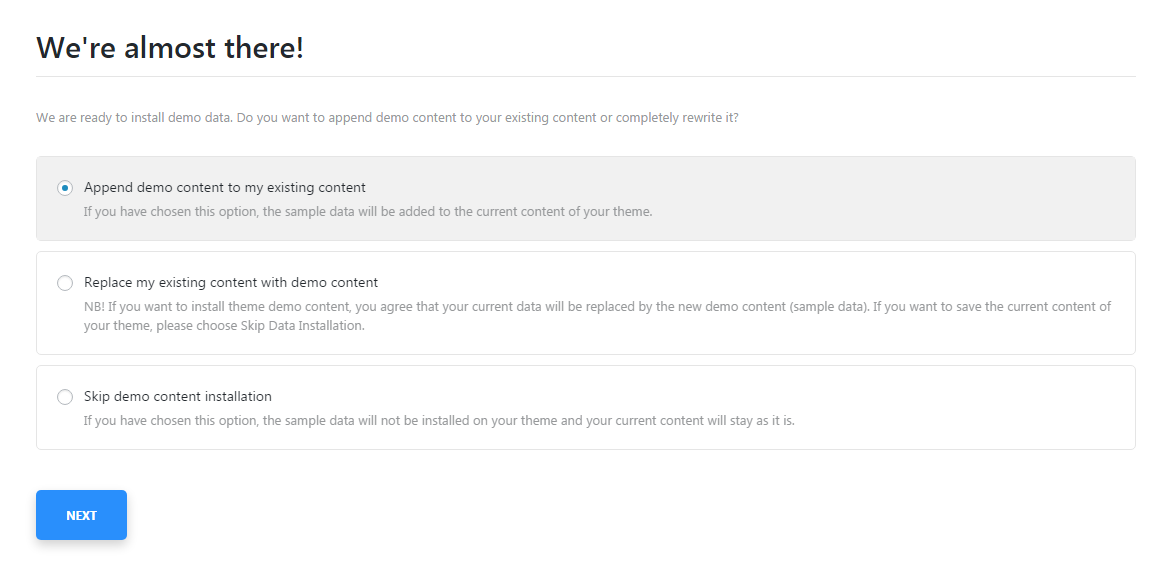 Demo Content Installation
Cherry Plugin Wizard will offer you several scenarios how to install demo content to your theme.
Append demo content to my existing content

this option will append the demo content for your theme with your existing content.

Replace my existing content with demo content

this option will rewrite your previous existing content with the demo content.

Skip demo content installation

by choosing this option you refuse to install demo content for your theme.
When the installation will be over you'll see the following notice.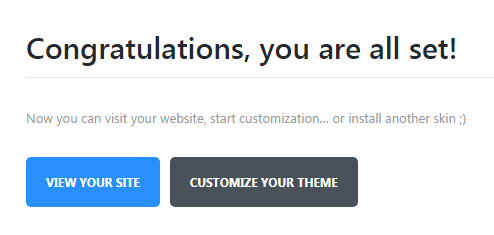 Cherry PopUps
This plugin is used to display popups of your projects on a site page. It has its own settings page which allows to save, reset and set default options. With its help you will be able to create various kinds of popups and manage them the way you like.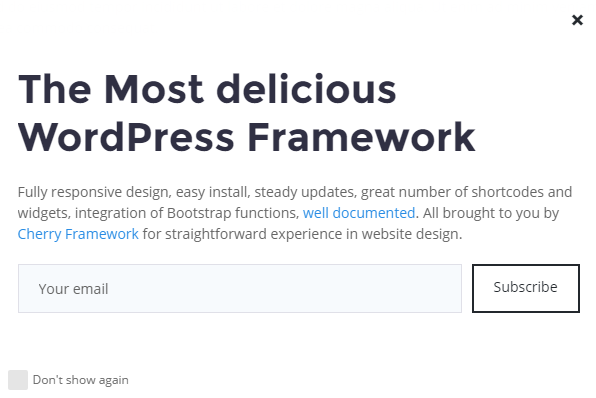 Popup Options
Each popup has its own settings which are gathered in Popup settings.
General Settings Sections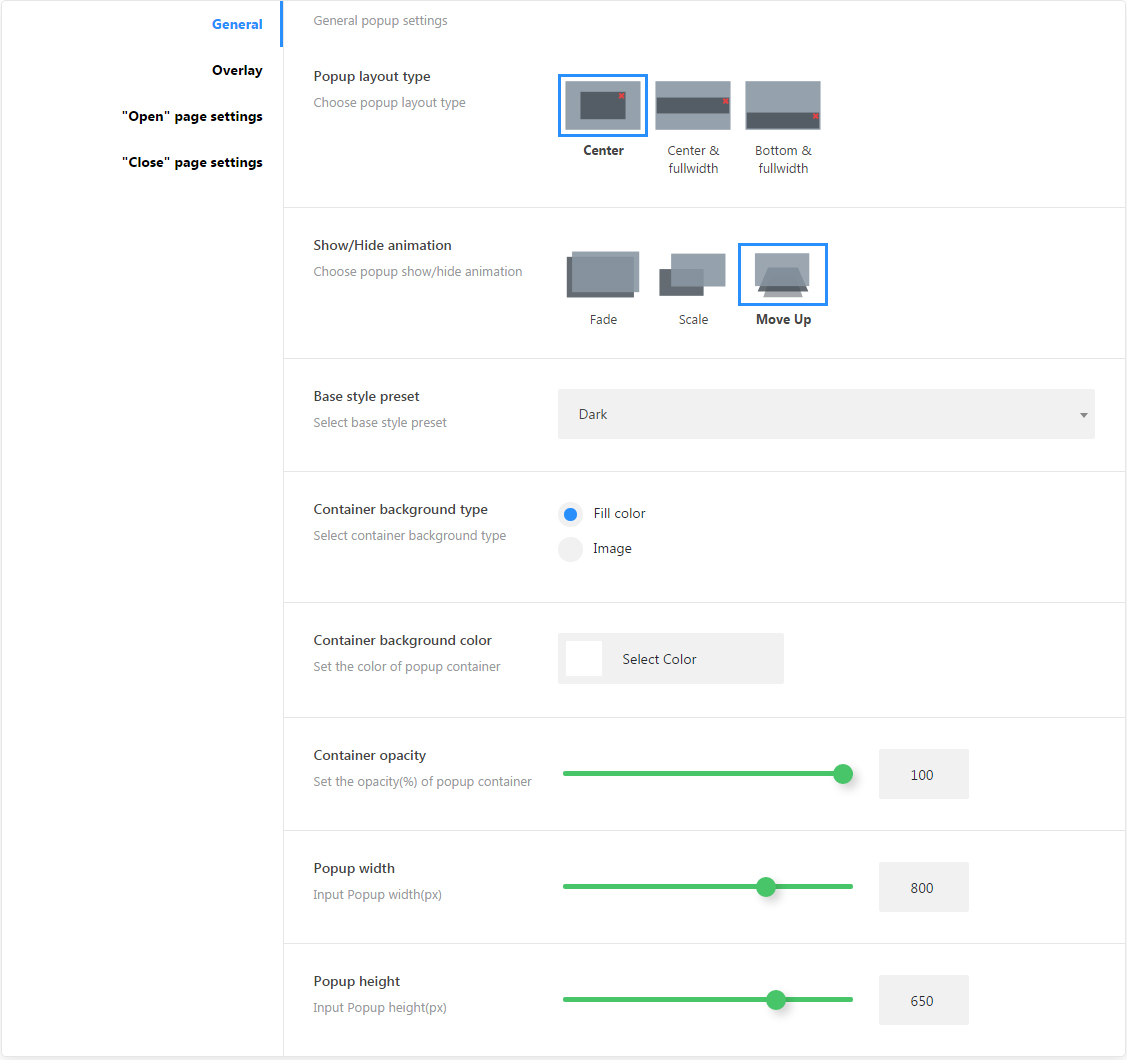 popup layout type

choose popup layout type (center, fullwidth center, fullwidth bottom);

show/hide animation

choose show/hide animation effects(fade, scale, move up);

base style preset

popup controls base color styles(default, light, dark, blue, red);

container background type

container background type (fill-color, image);

container background color

popup container background color;

container background image

choose container background image;

container opacity

container opacity (active for fill-color type);

popup width

popup container width;

popup height

popup container height.
Overlay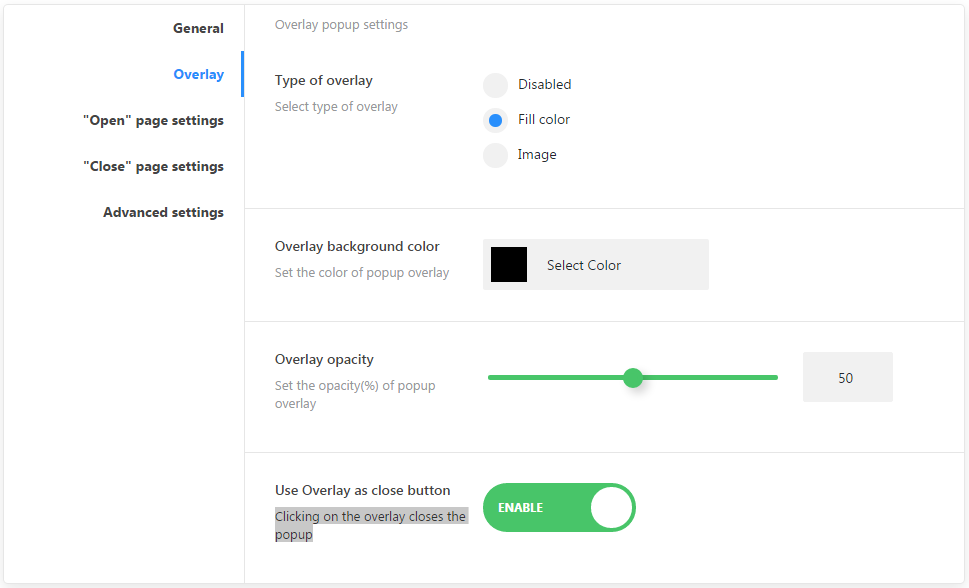 type of overlay

disabled

disable the overlay;

fill-color

background fill-cover;

overlay background color

choose overlay background color;

overlay opacity

set overlay background opacity;

overlay background image

set overlay background image;

use Overlay as close button

clicking on the overlay closes the popup.
"Open" Page Settings

"open page popup appear event

set an event to which a popup will be opened;

close page popup display in

pages identification for the default popup;

on page load

page complete load event;

inactivity time after

inactivity time event;

on page scrolling

page scrolling progress event.

open delay

set the time delay when the page loads.
"Close" Page Settings

Close page popup appear event
outside viewport

set top border for mouse cursor;

page unfocus

user sets focus on another page or app in the system.
Advanced Settings

template

template file for content.
Popup Identification on Static Page
If standard settings are not enough for identifying a visible section, there is a metablock that allows you to add a particular popup to any static page. To find the metablock open any page of your website in the and scroll down to the Cherry Popups section.

You can assign 2 popups simultaneously. One at the beginning, and another one at the end of section.
Plugin Options
All plugin settings are gathered in Popups > Settings
General Settings Sections
Here ou can define where and for which users to display popups.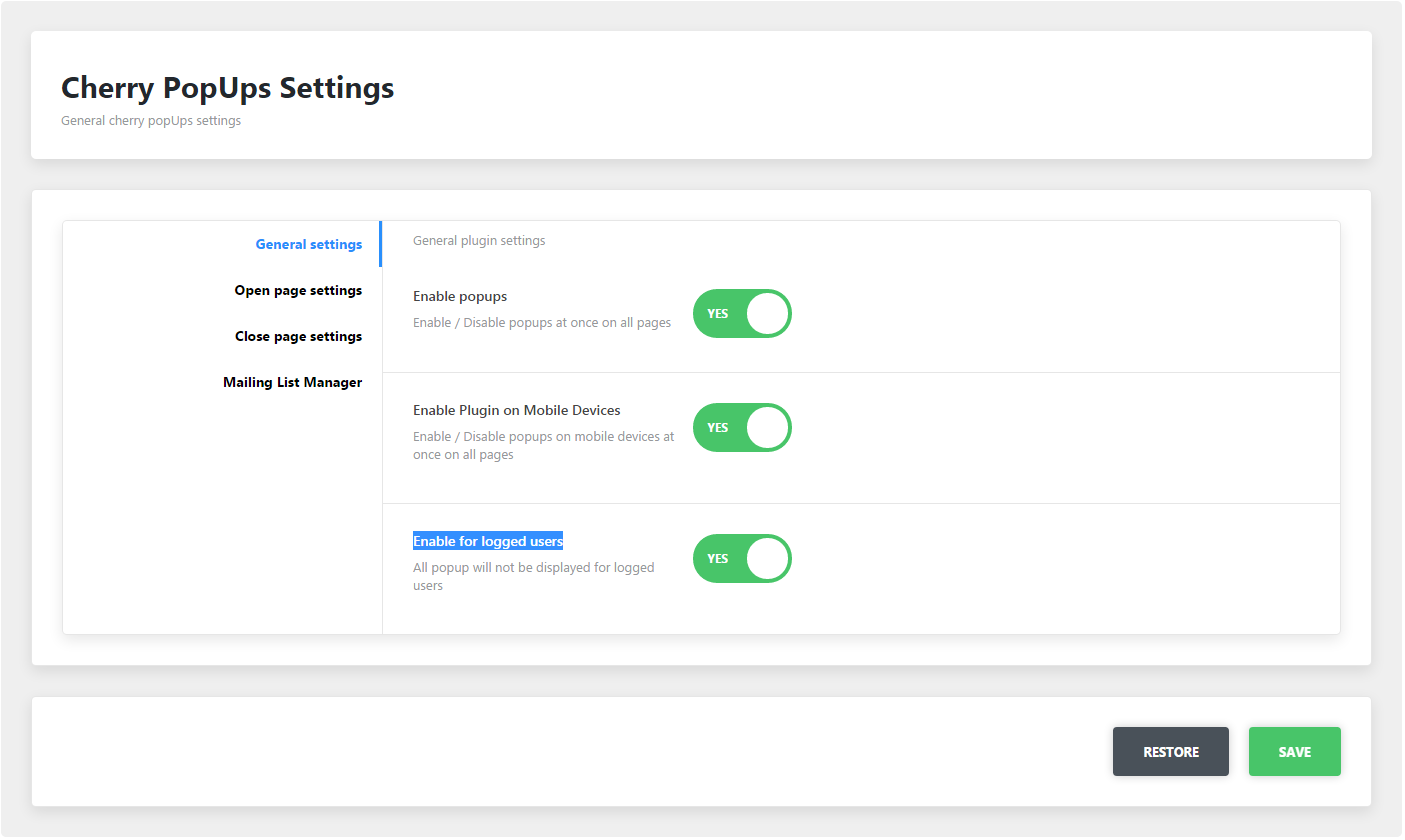 enable popups

enable/disable plugin functions globally for the site;

enable plugin on mobile devices

show/hide popups on mobile devices;

enable for logged users

show/hide popups for logged in users.
Open Page Settings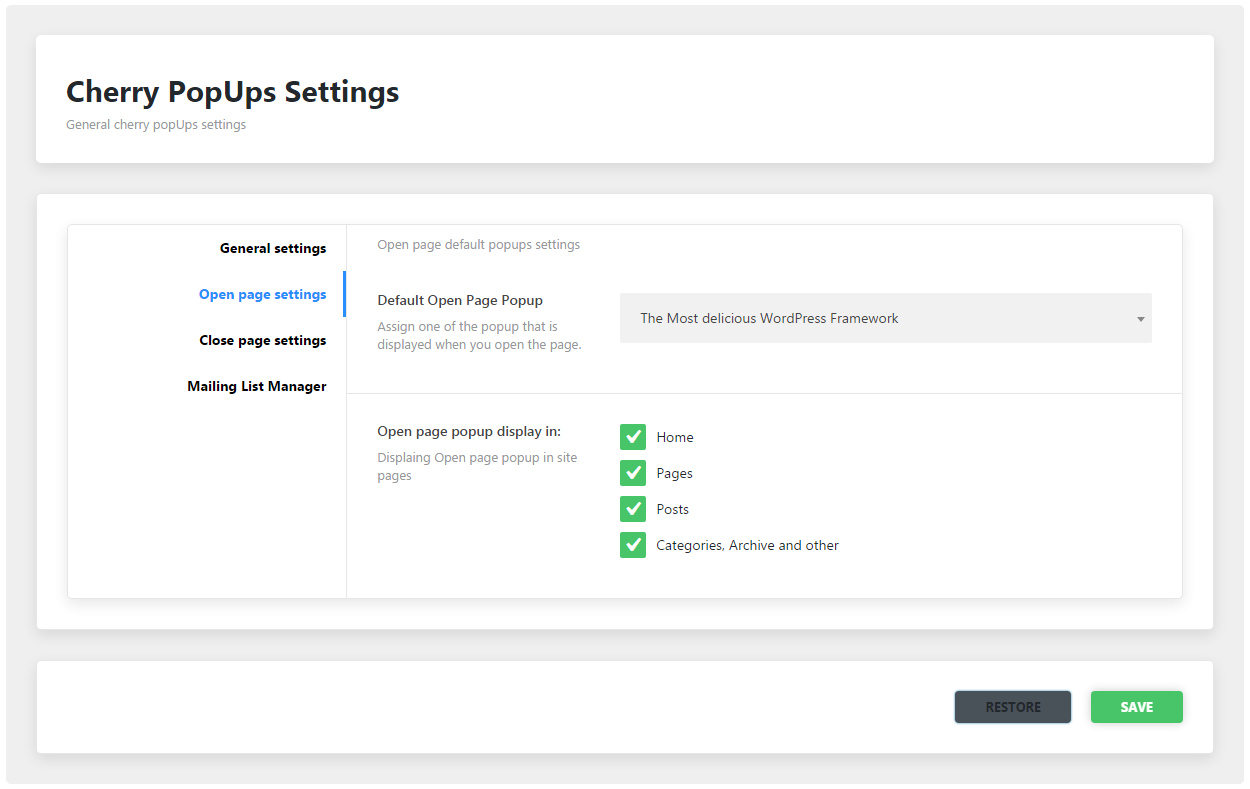 default open page popup

default open page popup identity;

open page popup display in

pages identification for the default popup.
Close Page Settings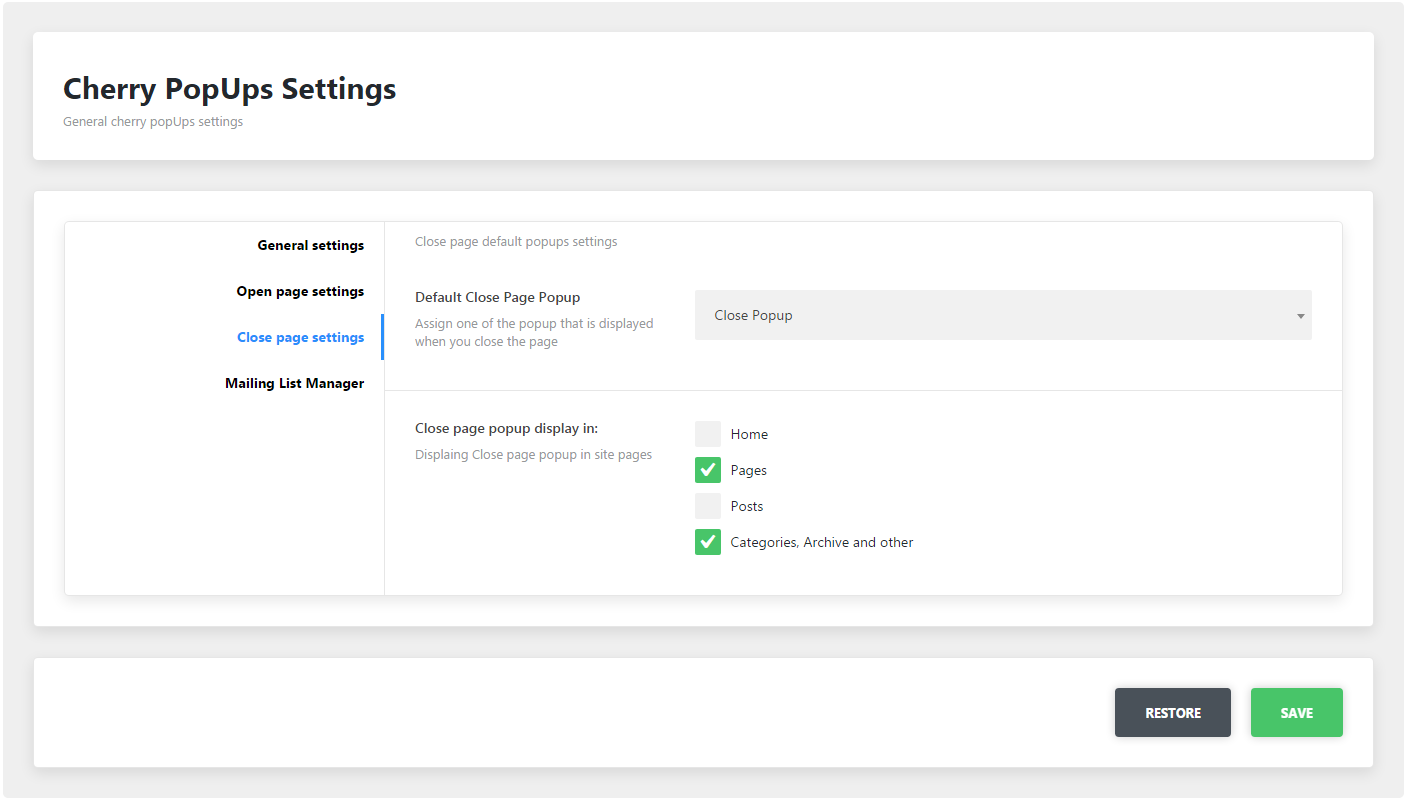 default close page popup

default close page popup identity;

close page popup display in

pages identification for the default popup.
Mailing List Manager
MailChimp mailing list settings: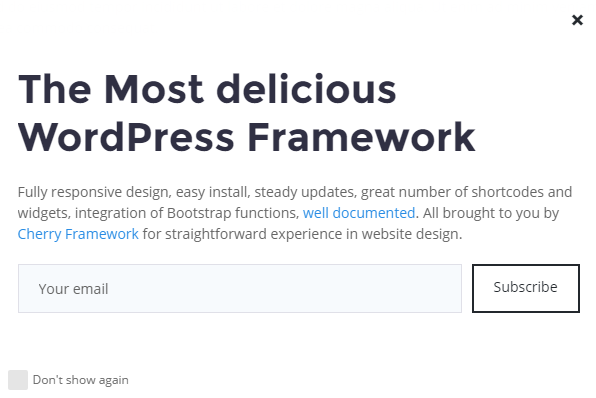 mailChimp API key

add MailChimp Api key (how to get);

mailChimp list ID

profile list id (how to get);
Cherry Sidebar Manager
This Cherry Sidebar Manager is designed to create custom sidebars with specific sets of widgets and define custom sidebars on pages.
To add a new sidebar, go to the Appearance > Widgets section and click Create a new sidebar.


Input Sidebar name and Sidebar description. Then click Creating Sidebars


You can arrange your widgets set in your sidebar by adding the new ones, changing the order of widgets and removing the unused ones.
Avaliable Post Sidebar Areas

Motopress Slider
This Motopress Slider is all you need for creating beautiful slideshows, smooth transitions, effects and animations. Easy navigation, intuitive interface and responsive layout.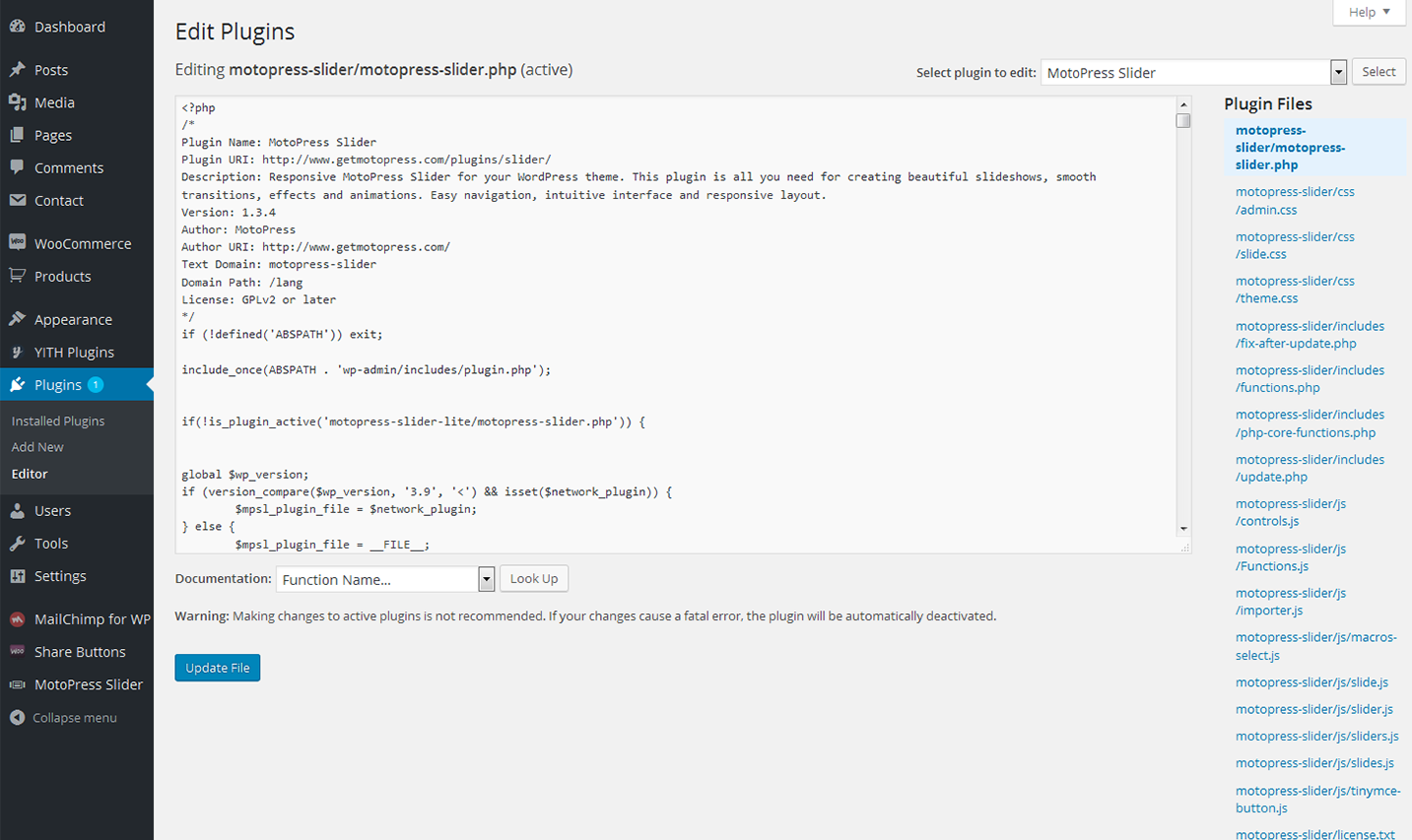 NOTE: Motopress Slider comes in several packages, this means that you should enter a valid key that fits for a specifiс license type. In other words, a key from a Business package can't be used for a Personal or Developer version. If you have purchased Motopress Slider you can find a key and activate the licence.
To customize the widget, navigate to the "Widgets" section of our documentation and find MotoPress Slider.
Power Builder
Power builder is a brand new drag and drop page builder. It allows even non developers to build top-quality and fully functional sites for any kind of business.
Power Builder Integrator
Power Builder Integrator is specially designed to help users integrate 3d party plugins into the Content Builder.
TM Mega Menu
This TM Mega Menu plugin allows you to create multi-column menu drop-downs. It also lets you display necessary information in the main menu.
After the plugin is installed and activated, you can navigate to Appearance > Menus in the WordPress dashboard. Hover over the menu tab and click the Mega Menu icon.

Here you can work with Mega Menu:
enable Mega Menu for current item

this property allows to enadle/disable Mega Menu for the items of the general menu strusture;

settings

this tab defines subitems behaviour: here you can group sub items to columns, define the number of columns, container columns number; here you can also set layout and position for the current Mega menu;

media

this tab allows to select item icon, item arrow, show or hide menu link text, show or hide sub-menu arrow.

TM WooCommerce Ajax Filters
TM WooCommerce Ajax Filters plugin helps to implement the filters that are necessary to make the search of products much easier. When the Ajax Filter is working, the products will be displayed in accordance of the filter that was selected. The plugin makes it easy for customers to find all the necessary goods they are looking for.
TM WooCommerce Compare Wishlist
TM WooCommerce Compare Wishlist is designed as an addition to the TM WooCommerce Package and gives your store even more functionality. With its help visitors will be able to add various kinds of products to the wishlist and compare pages. The plugin actually combines two separate widgets and installs them with a single click of a mouse.
TM WoooCommerce Package
This TM Woocommerce Package from Zemez. It brings a set of widgets that will help you make the site work to the full potential.
Here is the full list of widgets available:
about store widget;

banners grid widget;

custom menu widget;

product categories widget;

products carousel widget;

products smart box widget.
Navigate to the Widgets section to customize the listed widgets.
TM WooCommerce Quick View
TM WooCommerce Quick View plugin helps to add Quick View button to the blocks where WooCommerce products are listed. It makes the process of choosing the product much easier for the customers so that they can view the products much quicker.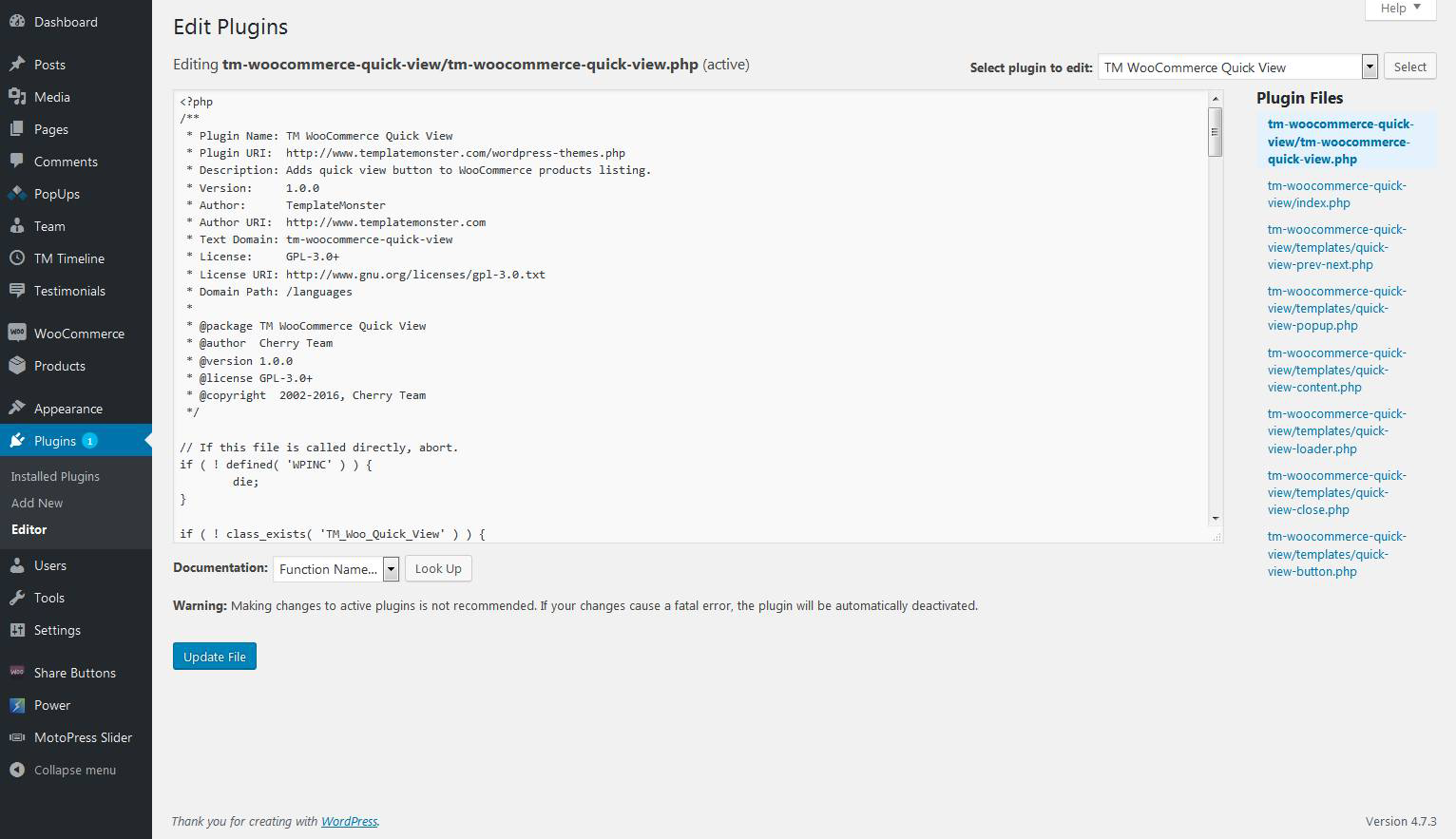 WooCommerce
Sell any products quickly and easily with the help of this professional WooCommerce plugin It will be a perfect fit for both store owners and developers.
About 30% of all modern stores are powered by this plugin. It can be used for selling physical or digital products and even affiliate goods. It gives you access to hundreds of free and premium extensions that will help you optimize your business. Choose a proper extension to create bookings, memberships, recruiting subscriptions, various shipping and payment options and much more. This WooCommerce plugin gives you full controll of the store from managing taxes and customer accounts to changing the design.
Installing WooCommerce:
log in to your WordPress Admin panel;

go to Plugins > Add New;

type WooCommerce into the Search Plugins field and hit Enter. Once found, you can view details on the point release, rating and description;

click Install Now. After clicking the link, you'll be asked to confirm this action;

click Yes, and WordPress completes the installation.
WooCommerce Menu Items
orders

this section allows you to see and manage all orders;

coupons

in the Coupons sections site owners can create various kinds of discount campaigns and coupons to provide customers with the top of the line service;

reports

reports section gives you statistics on sales, coupons, campaigns, etc;

settings

configure the WooCommerce plugin from this section;

system status

this section will become in hand during troubleshooting. The System Status Report gives you all information of the plugin setup and all potential conflicts;

add-ons

in this section you can browse for some new free and premium extensions that will bring even more functionality to your site;

booster tools

information about all available WooCommerce tools can be found in this section. The enabled tools will be displayed in the right column.
Find more information about this plugin on the official homepage.
WooCommerce Currency Switcher
This advanced WooCommerce Currency Switcher plugin adds a simple currency switcher widget to the website.
Installing WooCommerce Currency Switcher
Download WooCommerce Currency Swircher to your plugin directory or simply install it via WordPress admin interface.

Activate the plugin using Activate option under the plugin on Installed Plugins page.

To use Currency Switcher, please, navigate to WooCommerce > Settings tab on the left of the Dashboard and locate Currency tab in the top settings panel. Here you can manage currencies. To learn how to use Currency Switcher, please, proceed to reading plugin documentation.
NOTE: You can use any two currencies in the free version of the plugin (by default, it is EUR and USD, but you can change them to your needed currencies). However, You can get a premium version in order to add more currencies to the switcher.
You can also check How to Manage Currency Switcher tutorial.
Woocommerce Social Media Share Buttons
Add all kinds of social share buttons with the help of this
Woocommerce Social Media Share Buttons plugin
The plugin is quite flexible and can be adjusted in accordance with specifictions of your store.
Installing Woocommerce Social Media Share Buttons
download the Woocommerce Social Media Share Buttons plugin(woocommerce-social-media-share-buttons.zip file);

extract the zip file to the /wp-content/plugins/ directory;

activate the plugin through the plugins menu in the WordPress admin area;

configure your share buttons via the share buttons menu option in the left admin area menu.